Mole Music
Written by David McPhail
Illustrated by David McPhail
Reviewed by Taylor B (age 8)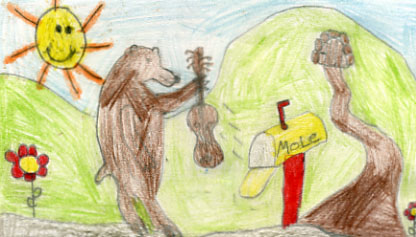 The story I read was Mole Music. In the story Mole would work all day digging tunnels, then at night he would eat dinner in front of the T.V., then he would go to bed. He liked his life but felt like something was missing. One night on T.V. he saw a man playing a violin, he liked the music it made. The next day he sent away for one. Mole finally got the violin, he practiced for years and got really good. Mole never played for anyone but always wanted to. He played his music in his mole hole and the village people heard it and they became happy.
My favorite part of the story is when he opened his mailbox and found a violin, it is cool. Mole is a very great character and he is a funny one because he is a bear that talks. This story relates to my life because my grandpa has a violin and he plays it all the time. The pictures do help tell the story because the pictures have great details.
I think others should read this story because it is a great story. They would love to read this story because it is fun to read.