Harry Potter and the Sorcerer's Stone
Written by J.K. Rowling
Illustrated by Mary Grandpre
Reviewed by Zora V-T (age 9)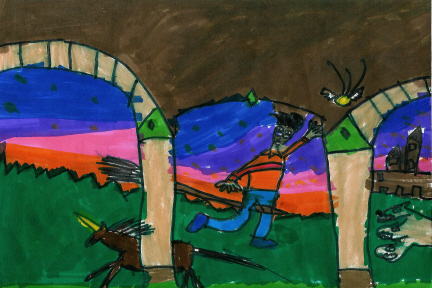 I read the book Harry Potter and the Sorcerer's Stone. It is about Harry who lived a horrible life with his mean, rude, and misunderstanding aunt, uncle and rotten cousin Dudley. Then one day he received a letter asking him to go to a school of wizardry. Will Harry escape his rotten life and get to a life with happy and magical experiences? Read the book to find out.
I felt a little excited when I read the part about the man with two faces. It seems weird to see a man with two faces.
My favorite part was when Harry and his team won the quidditch match. I liked this part because the other team didn?t win and the other team is rude and mean.
This book is by J. K. Rowling and the pictures are by Mary Granpre, but there are only little pictures at the beginning of the chapters.
My favorite characters are Harry Potter, Hermione Granger, and Ron Weasley. I like Hermione and Ron because they are Harry?s friends and they?re always helping Harry if he gets in trouble.
I recommend this book to 3rd-12th graders because it is a very good book.