Dragon Rider
Written by Cornelia funk
Illustrated by Cornelia Funke
Reviewed by Connie Y. (age 10)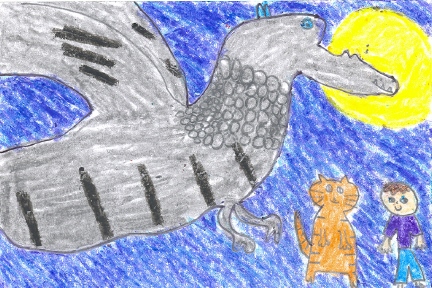 Dragon Rider is a fantasy and adventure book. The land of dragons is about to be flooded by humans. A dragon, a cat, and a little boy are going on an adventure to find the Rim of Heaven. No dragons have ever found the Rim of Heaven before. It has been said that it is a very dangerous journey. Are Firedrake (the dragon), Sorrel (the cat), and Ben (the boy) going to find the Rim of Heaven, or will the land of dragons be flooded and all of the dragons die? Find out by reading Dragon Rider, A book filled with friendship, bravery, and good triumphing over evil.
This book is fabulous and I guarantee that it will pull you right in. (It's like a T.V. that you can't pull away from). The illustrations were the best of all. They helped you really understand what the author was trying to say. Through the book, I made connections with Ben, the little boy in the story, and we both love adventures and we both never give up. My favorite part in the book was when Firedrake, Sorrel, and Ben met Professor Greenbloom and they figure out lots and lots of things together. This is the best book ever.
I recommend this book to readers who love fantasy and adventure. This book would be great for readers who love Peter and the Starcatchers (adventure lovers) and Eragon (dragon book lovers).