Hatchet
Written by Gary Paulsen
Reviewed by Joe Joe W. (age 10)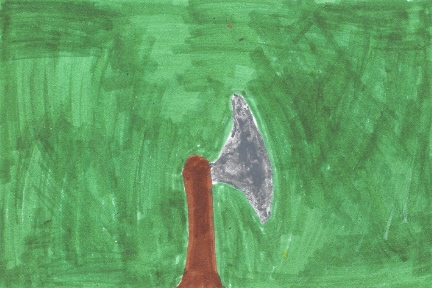 Brian's parents are divorced so he is going alone to visit his dad in Canada. Before he left, his mom gave him a hatchet and Brain doesn't know why. The pilot started to smell really bad and started rubbing his left shoulder. Then the pilot asked Brian if he wanted to fly the plane and Brian said yes. Brain learned how to fly the plane (a little) by the pilot. The pilot's face started to turn white and he started to yell. The pilot had a huge heart attack, so Brain took control of the plane and crashed. Will Brain survive or not?
Gary Paulsen did not let us down with his adventure book Hatchet. I think Hatchet is the best book he has written because it is so realistic! He makes you feel like the adventures could happen to anyone. The author didn't draw any pictures, but you can draw them in your brain with the very descriptive sentences. One of the most descriptive parts in the book is when the pilot has a heart attack. I really liked the part when Brian made a bow to catch fish because I like to hunting. When you pick up the book Hatchet, you won't be able to put it down.
I recommend this book to anyone who likes adventure books.