The Book of Three
Written by Lloyd Alexander
Reviewed by Nikita B. (age 8)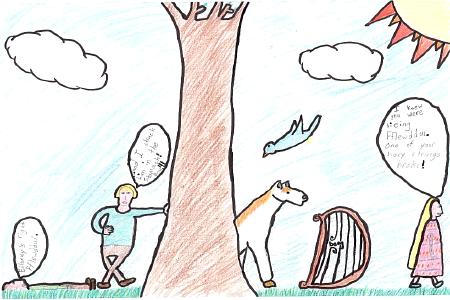 This book is about a teenage boy named Taran. He lives in an imaginary land called Prydain. In this land there is a town called Caer Dallben. He livees on a farm with the 300 year old Dallben (a wizard) and Coll (another man).
Dallben owns a book that tells you everything in the world. It is called The Book of Three. One day trouble comes and their magic pig, Hen Wen, gets away. Taran goes after her and it turns into a wild adventure.
I think this book clearly gets this message through: You gotta do what you gotta do! My favorite part was when Fflewddur Fflam kept telling lies and each time one of his harp strings broke! This book is sad, funny, happy, and daring! I think this book is unique from all others because it is very exciting and very clearly written.
I recommend this book to people who like fantasy and people who have big imaginations.