Mr. Putter and Tabby Pour the Tea
Written by Cynthia Rylant
Illustrated by Arthur Howard
Reviewed by Allison G (age 7)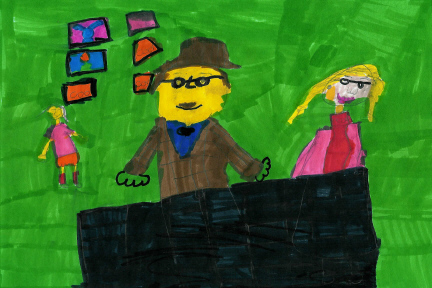 Mr. Putter and Tabby Pour the Tea is a book about an old man named Mr. Putter and his cat, Tabby. Mr. Putter is feeling lonely. He wanted to get a pet. Mr. Putter went to the pet store. They only had kittens, but he didn't want a kitten. So he went to the shelter. They had one fat kitten, one skinny kitten, and one old cat that was perfect for Mr. Putter. When he brought the cat home they did a lot of things together. They both had fun.
I really like the book. You might like the book too. I like the book because Mr. Putter was a nice man. He bought a cat from the shelter and shelter cats need homes.
My favorite part was when Tabby rolled in the tulips. I liked that part because it was funny. It was funny because cats don't usually roll in tulips.
This book reminds me of my dog doing the same thing as Tabby. Sometimes my dog goes into my garden. In the book Tabby goes into the garden too.
I recommend this book to 1st-3rd grade students. Kids who like cats should read this book. It is very good. I hope you like it too.