Vampires Don't Wear Polka Dots
Written by Debbie Dadey
Illustrated by John Steven Gurney
Reviewed by Devon R-C (age 9)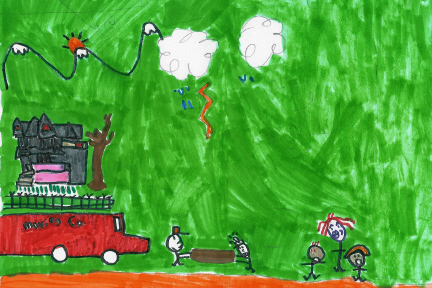 This book is about four kids who get a new teacher. Her name is Mrs. Jeepers. The kids: Melody, Howie, Liza, and Eddie think she is a vampire because her eyes flash and her necklace glows. One lesson is not to be rude in class or else when you come back your face will turn pale and you can't talk. Is Mrs. Jeepers really a vampire? Read the book to find out.
My favorite part was when Eddie wanted to prove that Mrs. Jeepers wasn't a vampire. So, Melody and Eddie snuck over to her house to see what the coffin shaped box was in her basement. They looked for a lock on the box, there was no lock unless it was locked from the inside.
This book made me wonder if Mrs. Jeepers really was a vampire. Was the big box in her basement really a coffin? What happened to Eddie when he was being rude and Mrs. Jeepers took him out of the room and when he came back his face was pale.
The illustrations and the sketches were cool, they show realistic pictures. The kid faces showed a lot of expression. I like how the illustrator put the pictures in black and white.
I recommend this bot to 2nd-4th graders. It was exciting, interesting and fun to read.