The Vile Village
Written by Lemony Snicket
Reviewed by Marcella J. (age 11)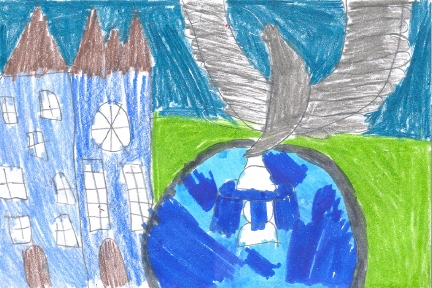 This is a story about three children named Violet, Klaus, and Sunny Baudelaire. Their parents died in a fire. Ever since then, a villain named Count Olaf has been chasing them around and making there lives worse. In Snicket's seventh book the children are living in a town called "V.F.D." It's a town full of old people who make thousand of rules. The children are living with Hector, one of the old people. He finds poem couplets under a tree in his yard. Klaus notices that the poems are made by Isadora Quagmire, a recent friend of the Baudelaires. A new couplet arrives each day. Every poem has a secret behind them. Is Count Olaf some how behind this? Will the Baudelairs and Quagmires ever reunite? Find out in the journey of Violet, Klaus, and Sunny Baudelaire, in The Vile Village.
Lemony Snicket kept us guessing for six books and still does. Don't worry it still has plenty of action. This is one of my favorites, because it introduces a new person from Count Olaf's crew. I can relate to Klaus because he loves to read books, and he's the middle child. I think it's really cool how he remembers everything he reads.
I recommend this book for readers who love unexpected wacky events. This is most likely for 4th and 5th graders.