My Pony
Written by Susan Jeffers
Reviewed by Cassidy L (age 8)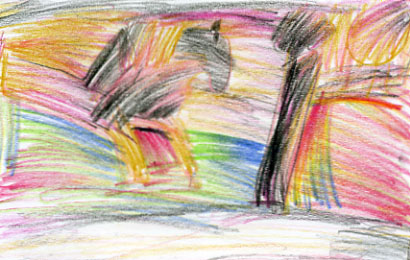 My Pony is about a little girl who really wants a horse. Every night she draws pictures of her horses, instead of doing her homework. The girl dreams that she and the horse jump out the window and visit other people at the river. All the horses want to meet her, but none is as beautiful as Silver. In the end, Silver takes her home and watches her sleep.
My favorite part of the story is when the horse jumps out the window and jumps into the river, because it looks like she is flying. My favorite character is Silver the horse because she is beautiful and she is my favorite animal. This relates to my life because I really want a horse and I like to draw horses. This story does have pictures, and it does help tell the story because it tells how everything happened.
I think anyone who really, really, really loves horses a lot should read this book. It encourages people to ride horses and dream.