The Great Gilly Hopkins
Written by Kathyrn Patterson
Reviewed by Timmy B (age 10)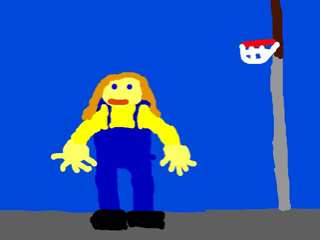 Timmy Gilly Hopkins
Ready to learn a new book, if you do listen to this book report on Gilly Hopkins Katherine Paterson. The genre of this book is realistic fiction. Gilly, I think, is a sassy foster home girl that is rude, tough, cusses, and doesn't care about anyone because she is always mad. The main settings are in an old house and at a school filled with mean kids. The problem is that Gilly wants to go home to her mom. She has a mom, Courtney, that doesn't like her as much as Gilly thinks she likes her. So she just tries to make the best of it.
Gilly Hopkins is a lot like my sister Becky because Gilly is sassy and my sister is sassy. My sister is, because she thinks she is the best at everything. That is the same reason Gilly is sassy. The theme is just be happy with what you have got, because that is all you will get. The author uses cool words like "Mr. Randolph swore a solemn oath to be well by Thanksgiving." I think cool words help the book because they describe really well.
I would recommend this book for foster kids and sassy kids. Why I would do this is because Gilly is sassy and is a foster kid. This book is the best because it is funny like when Gilly took on four boys by herself. I hope you read it and have fun reading the book!
By Timmy