The Birchbark House
Written by Louise Erdrich
Illustrated by Louise Erdrich
Reviewed by Eliza M. (age 8)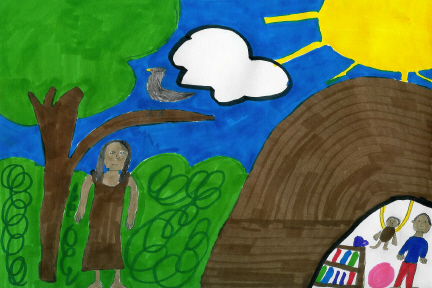 The Birchbark House is about a little indian girl named Omakayas and her family. Omakayas' little brother Neewo dies from small pox. Her whole family gets sick except for her because she had already been exposed to it. Two other people in her town died. How did Omakayas survive? Read the book to find out!
I liked this book because it made me feel scared, happy, funny, relaxed and warm inside. I was happy when Omakayas found two bear cubs and was playing with them.
My favorite part of this book is when Omakayas finds a crow and they keep it. This part reminds me of a bird I found at my grandpa's, laying on the ground. We left him for his parents to rescue.
I liked the Grandma as my favorite character because she was nice and gave good advice. For example, she recommended Omakayas go pick berries for a snack.
I recommend this book to 2nd through 5th graders because they will like it. There are a few scary parts, so younger kids should probably not read it.