Peter and the Starcatchers
Written by Dave Barry
Illustrated by Greg Call
Reviewed by Anna H. (age 11)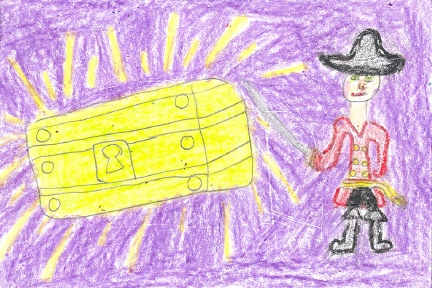 Peter and the Starcatchers, is a great fantasy book. It's about an orphan named Peter who is sent away on a ship to work for a king. He is joined by a couple of other orphans who help him along the way. They encounter many, many dangerous adventures. One night on the boat, as the orphans were sleeping, Peter creeps down to the ships basement. He tiptoes past the sleeping guard trying not to wake him, and quietly shuts the door. As he gets closer to the window Peter sees a glowing chest. Molly (a daughter of a wealthy man) comes out of the corner telling Peter not to open it. Find out what Peter will do in the prequel to Peter Pan.
This book is a magical book. You open it and pop right in! The author paints clear and vivid pictures in you're mind. The book is full of adventures for Molly, Peter, and even the orphans. You can always make connections with Peter. The connection I make is that Peter and I love to find things and sneak around. In this book the characters are all different shapes, sizes, and colors. My favorite character is Tubby Ted. He always makes me laugh, because he is always worried about food, and when he's going to eat.
I recommend this book to any forth or fifth grader who loves The Tale of Desperaux and Harry Potter. If you like those, then this book was made for you!