A Day No Pigs Would Die
Written by Robert Peck
Reviewed by JY (age 9)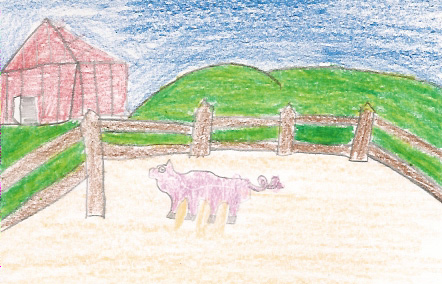 A Day No Pigs Would Die is to die for. In the beginning of the story, Robert Peak helps his neighbor's cow give birth. His neighbor, Mr.Tanner, rewards him with a pig. Robert is so happy because it's the first time he has something to call his own. He calls her Pinky. He goes to Rutland fair with his neighbors and Pinky. Pinky gets first prize for Best- Behaved Pig. Robert and Pinky become best friends. Sadly, Robert and his family have no food. His dad couldn't find a deer to eat so they must kill Pinky for food. Robert and his dad killed Pinky. Robert wants to scream and yell, but he doesn't because he must do it for his family. Robert's dad dies the next day. This is a very sad story.
I felt emotional as I read this book. I felt happy when Robert got a pig and named it Pinky. I was also happy when Robert, Pinky, and their neighbors, the Tanners, went to the fair. I felt sad when Robert's dad died in his sleep. I was also sad when they had no food so they had to kill Pinky. I was excited when Pinky got first prize. Robert was proud of Pinky that day. I was also excited when Pinky came home from the fair. This part of the story was great! My emotions felt like they were on a rollercoaster while I read this book.
My favorite part of this book was when Robert got Pinky. Pinky followed Robert everywhere. When Pinky followed him, Robert felt like she trusted him. I felt glad when Robert and Pinky went to Rutland fair. Pinky was entered in a contest and won. That was my favorite part.
I recommend this book to people who like sad stories. It is also great for people who like pigs. It teaches a good lesson as well. The lesson is that you have to make sacrifices in your life. Kids should learn this lesson so they understand they can't keep everything for themselves.