Redwall
Written by Brian Jaques
Illustrated by Gary Chalk
Reviewed by Sam C. (age 10)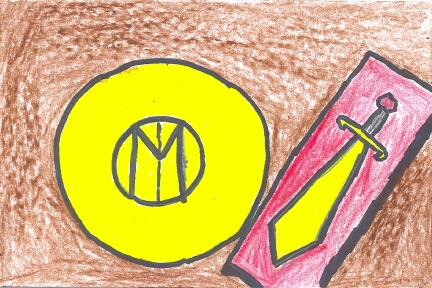 Have you ever been to a land of Mossflower? Ever seen an abby named Redwall? In the book Redwall, an abby full of peace-loving mice must face their greatest challenge yet. While pulling a cart, a young mouse, Matthias, spots an out-of-control hay wagon carrying hundreds of rats! Could this be the one-eyed rat, Cluny the Scourge? Can the help of the ancient warrior, Martin, provide protection to all of Redwall? Read Redwall to find out.
Brian Jacques reveals the adventures moment by moment, and you never find yourself bored. Going from one place to another kept me guessing, and hopefully will affect other readers this way too. My favorite part is when Matthias and Methiselah are decoding Martin's riddles because it is exciting to figure out the next step and find his secret tunnels that lead to his sword. Even though there are many other books in this series, Redwall is the best because without Redwall you wouldn't be able to keep up with the rest of the series.
I would recommend this book to 4th, 5th, and 6th graders. This is also for readers who love books about adventure, animals, and war.