Arthur, Clean Your Room!
Written by Marc Brown
Illustrated by Marc Brown
Reviewed by Jani A. (age 9)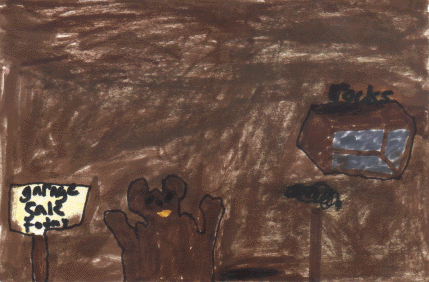 This book is about Arthur. His mom told him to clean his room. D.W. said, "have a garage sale." Buster was the first one there and said, "I'll trade you my bionic bunny for your spyglasses." Then Francine came with a wagon and some comic books. Arthur said, "cool cat comics!" Francine said, "Wow, is that a World Cup soccer game?" They traded and Arthur told his mom that he gave away all of his toys.
When they went upstairs to look at his room, Arthur crossed his fingers. His mom heard a loud crash and they ran to D.W.'s room and saw lots of toys and Arthur's room was still a mess.
I like this book because he had lots of toys and he had a garage sale. I also liked that his room was messy. My favorite part was when Francine traded her comic books with Arthur because they were special to Francine.
I recommend this book to a sad person because I think it will be fun for them to read. I think other third graders will like this book.