Ricky Ricotta's Mighty Robot vs. The Stupid Stinkbugs From Saturn
Written by Dav Pilkey
Illustrated by Martin Ontiveros
Reviewed by Colin C. (age 9)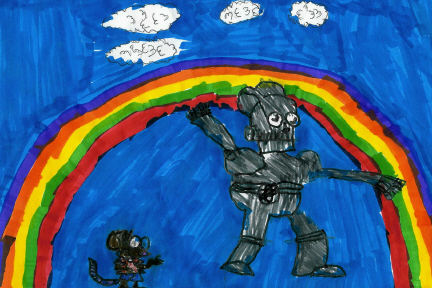 This story is about Ricky Ricotta's battle with the stupid stinkbugs from Saturn. Ricky Ricotta is a regular mouse who tries to save the day. The stinkbugs are trying to take over the Earth. They also try to take a mouse called Lucy because they thought that she was a real princess. Lucy thinks she is a princess too.
The stinkbugs try to stop Ricky Ricotta and his Mighty Robot from saving the Earth. Ricky's Mighty Robot has super powers. It can fly, kick, and punch. It has super strength, too.
I liked the book because I like the part when the stupid stinkbugs were on Saturn. My favorite part is when Ricky Ricotta chewed gumballs and grew. I would like to grow by chewing gumballs. My most favorite part was when Ricky was beating up the stupid, stinky stinkbugs from Saturn.
This book is like the book Captain Underpants. One of the Captain Underpants books has creatures that come from different planets and try to take over the Earth too.
I like this book because it has Flip-O-Rama. Flip-O-Rama is a type of illustration. It's when you have a piece of paper with a picture on it. On the next page, there is basically the same page, except the characters have moved. If you flip the pages, you will see the picture move.
I recommend this book to kids in first to sixth grade. Kids who like action books would like this book. They might also like the characters because they are funny.