Bedhead
Written by Margie Palatini
Illustrated by Jack E. Davis
Reviewed by Jonathan W. (age 8)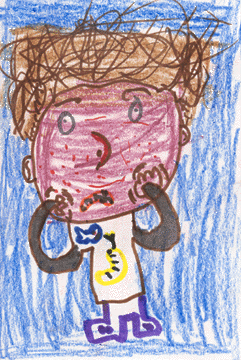 This book is about a boy that always has a problem with his hair In the beginning of the story mom and dad are eating breakfast and they hear their son scream. "aaaAAAAAAHHHHHHHhhhhhhhhhhhhh'' Mom and dad ran up the stairs to see what was wrong. The problem was that the boy had messy hair! They tried pouring water and brushing his hair but it did not work. Next they tried putting in barrettes and spray. His hair popped out!
My favorite part was when the boy was taking class pictures. He thought his hair was fine.Then when before they took the picture his hair got messed up. I like this book because it reminds me of when my hair was all messed up and I had to go to school. I had a hat on and my teacher told me to take it off. The illustrations have nice colors and the people look kind of weird.
I recommend this book to kids who have bad hair-doos. It teaches you a lesson to not mess up your hair.