Your Mother Was a Neanderthal
Written by Jon Scieszka
Illustrated by Lane Smith
Reviewed by McKenzie J. (age 9)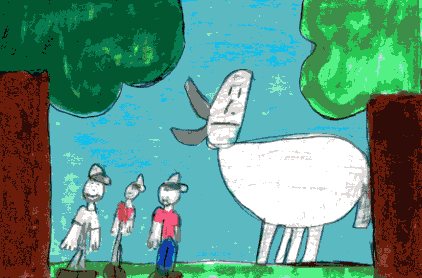 This is a story about three boys named Sam, Fred, and Joe. They open the book again and they go back to the Stone Age. They go look around and see a wooly mammoth. After that they start running. Then they come to two trees. They hide behind the trees and start running again. Finally they find something different to hide behind. Then the wooly mammoth gets stuck in the two trees. Then they find a place to spend the night. When they get up they hear something that sounds like monkeys. After the adventure they are back in the room with the book.
I think this book was funny. I liked it because of the people in it. I really like the part when they get chased by the wooly mammoth. I liked that part because of how mad the wooly mammoth looked. I liked the characters Sam, Fred and Joe because the way they talk is hilarious. These kids remind me of my big sister because my big sister is funny like the characters. If I tell her to act like a monkey, she?ll do it!
I recommend this book because it is fun! I think my whole family should read this book, except my dad!!!