Charlotte's Web
Written by E.B. White
Illustrated by Garth Williams
Reviewed by Haley B (age 9)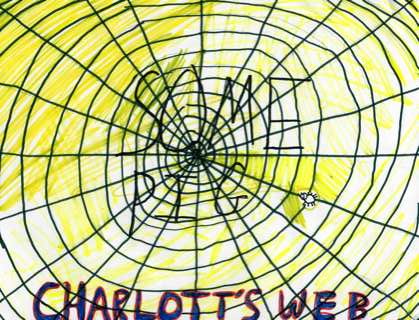 Charlotte's Web is a heart-warming story about a piglet that is born as a defenseless, sick runt and raised into a healthy pig by a farmer's daughter on her father's farm. The pig's name is Wilber. When Wilber gets older he meets a spider named Charlotte. Later, Charlotte writes "SOME PIG" in her web to make Wilber get attention to go to a fair and a pig-weighing contest. Will Wilber win the contest?
I think this story is well told. I like this book, because it has great illustrations and perfect details. My favorite part is when Charlotte writes "SOME PIG" in her web, because I think that it would be cool to see words in a spider's web. There are some pictures in the book. I think that the pictures are very well detailed, but the pictures have no color. There is a character that reminds me of someone; Charlotte reminds me of my friend, Gerri. They are similar, because they are both generous and loyal.
I recommend this book to other kids, because it is very exciting. I also recommend this book to fourth graders who love excitement and care.