Homer Price
Written by Robert McCloskey
Illustrated by Robert Mc Closkey
Reviewed by Payton T (age 10)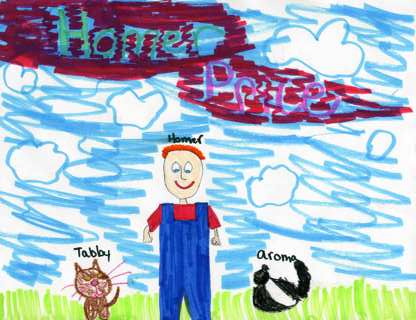 This book tells about a boy named Homer Price. When Homer turned six his parents, Mr. and Mrs. Price, wanted him to work for them at their tourist camp. Homer helps out with mopping the floors and washing the dishes.This tourist camp is in a small town in Centerburg. Many mysteries take place at the camp. Some of these mysteries are hilarious. One of the mysteries is about what happens when robbers steal 1,000 bottles of shaving cream and 2,000 dollars.
Some characters I liked were Tabby the cat, and Aroma, the skunk. I like them because they are funny and playful.
This book reminds me of a book called Otherwise Known as Sheila The Great, because Sheila and Homer both want it all about them.
My favorite part of the book was when Homer thought his cat, Tabby was rubbing his leg, but really it was Aroma. I liked this part because it is a hysterical part of these different stories and that's when Aroma becomes Homer's pet.
In the book there are some illustrations. They show exactly what the book says. Also, the pictures are very, very old.
I recommend this book because it has a lot of mysteries to solve and a lot of laughter. A reader of this book would need a sense of humor. I recommend it to funny, stubborn, and great mystery solvers!