Through the Garden Door
Written by Barbara Reeves
Illustrated by Rex Schneider
Reviewed by Afton P (age 9)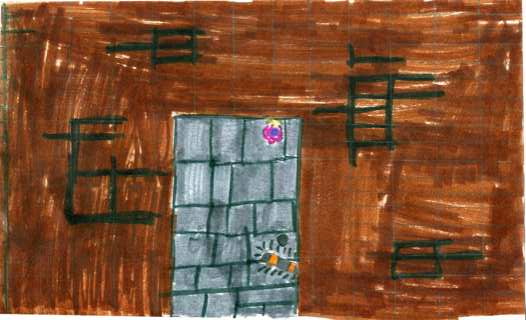 This book is about two kids named Miko and Jason. They are walking home from school, and they see a monkey-like creature. The creature walks through a steel door. The children follow it. Miko and Jason open the door, what do they see?
They see a beautiful garden!! Everyday the children visit the garden and the gardener. The problem is that Miko takes some plants seeds from the garden by accident. The garden is dying. What do they do? You'll find out when you read the book yourself.
I think the book was very exciting. I always wondered what was going to happen next. I really, really liked it because of that. My favorite part was when Miko and Jason see the monkey-like creature, because I think he is cute. Later in the book they find out that its name is Tris. Tris is kind of like me, because he doesn't like to be alone and neither do I.
In the book a gardener (she doesn't have a name) is kind of worried that the kids might take something. For example, in the book the gardener shows them around, then all of a sudden she takes them back to the door for no reason and she wants them to leave. The gardener is a very odd character.
I recommend this book to people who like descriptive details, because this book is full of details, described completely! Don't delay, start today, you've got to read it now!!