Sideways Stories from Wayside School
Written by Louis Sachar
Illustrated by Julie Brinklo
Reviewed by Brandi W (age 9)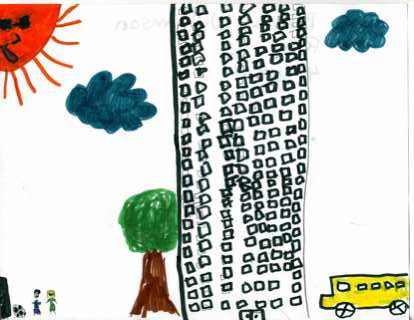 Wayside School is a school that was supposed to be built with thirty classes all in one row with only one story. But instead the builder built a school with thirty stories. Each story has one classroom. The builder said he was very sorry. Oh and may I mention that the builder forgot the nineteenth story. Mrs. Jewels, the new teacher that works on the thirtieth story, ordered her student, Calvin to send a note to a teacher on the nineteenth story. But he knew that there was no nineteenth story. So he ran all the way down to the first story. He stomped out the door. Calvin told Louis, the yard teacher, about his problem. Louis said to tell Mrs. Jewels the truth. Calvin ran back up the stairs and told Mrs. Jewels that there wasn't a nineteenth story. Calvin was amazed he didn't get in trouble. Read the book and find out about other funny incidents like this one.
I liked this book, because some of the characters fill me with happiness. My favorite character is Ms. Jewels. I thought Ms. Jewels was sweet and nice. She is kind of weird too. She thought that all of her students were monkeys. My favorite part is when Ms. Jewels asked one of her students "Would you like a peanut?"
I thought that a student named Sharie was also interesting. Sharie always wore a very heavy and beautiful jacket. She was always sleeping too. Mrs. Jewels didn't mind. Mrs. Jewels thought that she was so smart. Sharie was lucky. I wish I could sleep during class. During the book, I wondered if there would ever be a school with thirty stories.
I recommend this book to people who like jokes, mean teachers and nice teachers. It is a book that will keep you in a good mood, and it will make you laugh so hard that the next thing you know you will be kicking and screaming. Read this book to find out if everyone survives in this dreadful, scary school.