Horrible Harry and the Christmas Surprise
Written by Suzy Kline
Illustrated by Frank Remkiewicz
Reviewed by Tanner W. (age 7)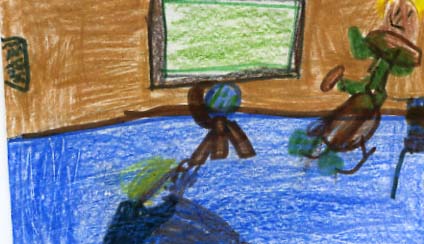 This is part of a series of books about Harry, a young boy who is about 8 years old and in second grade. The characters in this book are Harry, Song Lee, Doug, Miss Mackle, Ida and Sidney. It takes place at school in room 2B. In the beginning, Miss Mackle?s chair broke and a piece hit the globe. The globe went bouncing in the hallway. When the principle brought the globe back he saw that Miss. Mackle broke her leg. She had to go to the hospital. Then the principle took over her class. The class was doing a nursery rhyme play and Harry kept trying to kiss the girls. I liked when Mr. Cardini got dressed up as Mother Goose. At the end all the kids in 2B went to the hospital and sang a Christmas carol for Miss Mackle.
I enjoyed this book because Harry made a chair for Miss Mackle. The girls thought it was a horrible gift but it was not horrible at all. The gift was very special. Even though Harry was a pain to everyone else he really liked Miss. Mackle. That is why he made her the chair.
I would recommend this book if you enjoy Christmas and if you like surprises. All of the Horrible Harry books are fun to read. He has lots of awesome adventures. He does lots of things with his best friend Doug. You will love this book!