The-Not-So-Jolly-Roger
Written by Jon Scieszka
Illustrated by Adam McCauley
Reviewed by Kendall P. (age 8)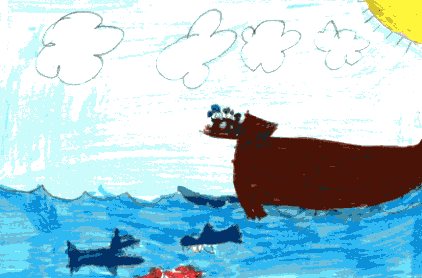 The Time Warp Trio boys were stranded on an island. A little while later these pirates came. Then the pirates started to dig for treasure. There was a big character named Black Beard. Black Beard was a big, mean, and nasty pirate. He had two men dig the treasure chest out by themselves. Then he made them dig another hole and he shot them and threw them in it. Black Beard had the whole treasure to himself. Before Black Beard could shoot them the boys got to touch the treasure, they found the book and they got out of there.
This is like another book I have read called the Knights of the Kitchen Table. They are alike because they are both have the same characters and are funny like the one I just read. There were illustrations in the book and some of them were funny. I like the one with the sharks with chopped off hands. My favorite character was Sam. I liked him the best because sometimes he acted like he knew what to do, and sometimes he faked out what he didn?t know. I do that sometimes, too.
I recommend this book because it?s funny and it?s a good book. Kids who are seven years old and older could read this book.