See You Later, Gladiator
Written by Jon Scieszka
Illustrated by Adam McCauley
Reviewed by Jennifer W. (age 9)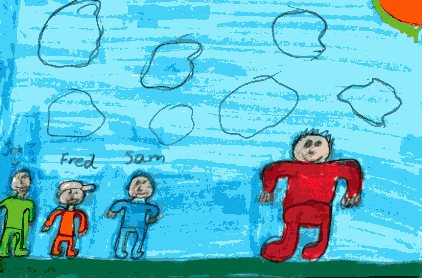 The magic book took them to the days of the gladiators. The gladiator wanted to kill Fred, Sam, and Joe. Sam said, "You have got to be kidding me." The gladiator was wearing a loin cloth, sandals, and a mean look on his face. The gladiator said, "You must die or fight in the war." The gladiator chased them right into the kitchen where a lot of gladiators were eating. Suddenly, Joe said, "The king of all gladiators has the book." They tried to take it but the king noticed, and Joe said, "That book is ours." But the king said, "It's mine now!" Fred said, "Let?s flip a coin and whoever wins the toss gets the book." Sam said, "Heads or tails?" And the king said, "Tails." Then they flipped the coin and it was heads. They said, "Yes! We get the book!" Then Fred, Sam, and Joe said, "See you later gladiator." Then they went back home.
This was a good book. When I started reading, I was anxious to finish the whole book. I liked it because when I read it, I thought it was a good book. My favorite part in the book is when Fred, Sam, and Joe got poofed into the time of the gladiators. In other books with them in it that part also happens. I liked the three characters in the story, because they travel everywhere.
I recommend this book to children in second grade or higher. The characters are very brave. So who ever likes brave kids should read this book.