2095
Written by Jon Scieszka
Illustrated by Lane Smith
Reviewed by Stefany L. (age 9)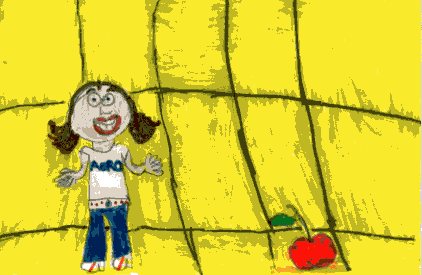 This book is about three boys who are named Joe, Fred, and Sam. They go into the future. Then they meet a lady from the future named Director Green. Then they meet their great-granddaughters. They see the magic book in a room in a museum about the past. They couldn?t get the book because a robot kept chasing them around and asking for their number. They made a plan with their great-granddaughters to get the book back from the museum. Read the book to find out how they get back to their regular time.
My favorite character is Sam because he would always be adjusting his glasses whenever you see him. This book does not remind me of anything in my life because my life does not have magic in it. I wish that it could! This is like the Time Warp Trio book, ?Knights of the Kitchen Table? that we read in our group. It has the same magic with the same characters Joe, Fred, and Sam.
I recommend this book because it is a good book. I like the Time Warp Trio. I think that kids that are in second grade and higher can read this book.