The Time Warp Trio Tut Tut
Written by Jon Scieszka
Illustrated by Lane Smith
Reviewed by Michael B. (age 8)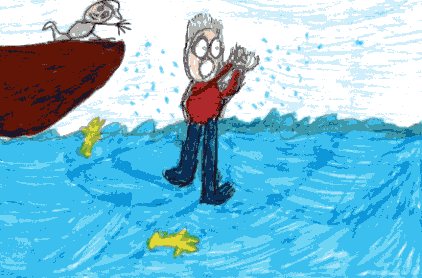 The three friends Sam, Joe, and Fred, were learning about Egypt, and then Anna opened the magic book and they went back in time to Egypt. Sam tried to do a magic trick to make Hatshepsut not whip them. Then Sam tried to make Hatshepsut believe they were not robbers. Then they were friends and Hatshepsut brought them to the Nile celebration party. They ate so much and made their tummies jiggle. Then they were on a boat and Sam fell overboard and Joe took one of the coffin lids and put it in the water and Joe saved Sam. Then they were at a show and saw his sister and after way after that they found her in a coffin. They found the magic book in one of the coffins and then they finally got back home.
My favorite part was when Sam went overboard. I liked it because it was hilarious. It is like other books by the same author because they have the same characters and they use the same book to get to different places. It has illustrations. They are cool, nice, and good. They show a lot of expression.
I recommend this book because it is funny. I think everyone should read it.