Blaze and the Forest Fire
Written by C. W. Anderson
Illustrated by C.W.Anderson
Reviewed by Ruben D. (age 7)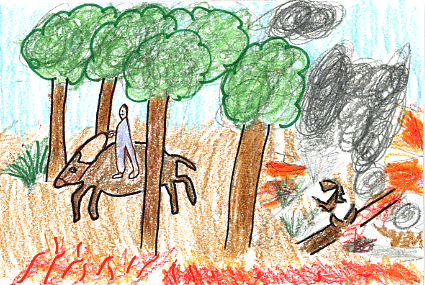 Blaze is Billy?s horse. He comes all the time when Billy calls him. One day, Billy and Blaze went into the forest for a ride because it was a nice day. They saw some smoke coming out of the bushes, then flames coming out with the smoke. They went looking for a farmhouse to tell someone that there?s a forest fire and to get help. They jump a wall, a brook, and a wall with barbed wire. Blaze gets cut a little on his back legs.
I was afraid that Blaze would get tired out and wouldn?t make it. I felt scared when he was tired and galloping towards the last fence, but Blaze was strong so everything turned out okay. The illustations are black and whilte and realistic. I like the pictures that show Blaze stretching to cross the brook. Billy was afraid that the forest fire would burn the whole countryside. He was brave when he went for help.
Anyone that likes horses would like this book. There are more Billy and Blaze books and I liked them all.