Grizzwold
Written by Syd Hoff
Illustrated by Syd Hoff
Reviewed by James D. (age 8)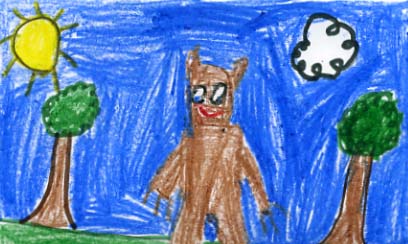 This book is about a bear that lived in a forest that has been cut down. It takes place in a big city. In the beginning Grizzwold woke up one morning and he heard something. There were men chopping down trees. Then Grizzwold went to look for the huge forest. He looked everywhere, and he wandered into New York with lots of buildings and a zoo. At the end, he went to a national park, and he was glad that he was there. Some hunters found him, and they aimed at him. ?Stop,? said the ranger. He told the hunters to go away.
I enjoyed this book because it was funny when he goes to the dance where only people could go. My favorite part was when Grizzwold went to the zoo just for fun. Grizzwold had to find a new home just like my family did from New York to Pompton Plains.
I would recommend this book to kids all over the world because this book is funny and it is interesting. It was funny to think of a bear doing things in the big city.