The Littles Make a Friend
Written by John Peterson
Illustrated by Jacqueline Rogers
Reviewed by Brooke T. (age 8)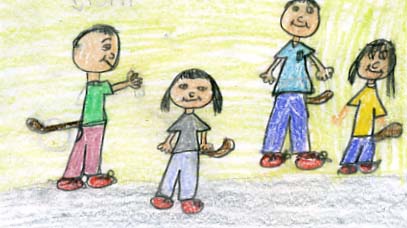 This book is about the Littles family that are under 6 inches tall. Mr. and Mrs. Bigg own the house they live in. It takes place in the Bigg?s house because the Littles are so small everything in the house is very large.
In the beginning, the Newcomb family visits the Biggs' house. The problem is that they are slobs. The Littles are worried about mice coming. Then the family has a meeting. Granny Little sews a mouse costume to scare the Newcombs. At the end, the Newcombs get a cat to scare the mice. At first the Littles were frightened, but then they made friends with the cat.
I enjoyed this book because of the interesting characters and the funny plan that they had. My favorite part was when the boy, Tom Little, pretended to be a mouse because seeing him dress and act like a mouse made me laugh. The pictures were colorful and really added to the story. It wouldn?t have been as good without the pictures. I recommend this book to anyone who likes Littles stories because they are so small they have crazy problems.