Sam Samurai
Written by Jon Scieszka
Reviewed by Waylon D. (age 9)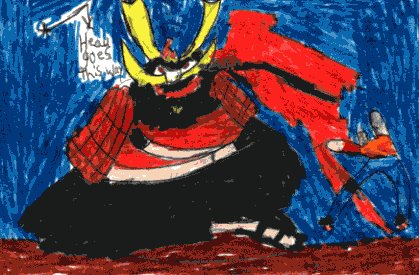 First, the boys Sam, Fred, and Joe disappeared into "The Book" to a samurai's house. A while later they thought they killed the samurai by chopping off his head. They met their great-granddaughters while in Japan, who saved them from the samurai. They learned many new things about Japan. At the end they forgot to write in the proper haiku form and got a C- on their homework assignment.
My favorite part of this story is when they attacked the samuari's armour. I thought it was funny. This book is similar to Knights of the Kitchen Table, both books have the same characters and the boys go on adventures in both stories. My favorite character is Sam, I liked his magic tricks he did to keep them from getting into trouble.
I think that third graders on up could read this story and enjoy it.