The Magic School Bus Inside the Human Body
Written by Joanna Cole
Illustrated by Bruce Degen
Reviewed by Cameron B. (age 8)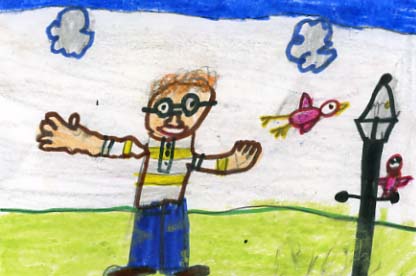 This book is about Mrs. Frizzle, who is a teacher, and her students. It takes place in Arnold?s body. Arnold is one of Mrs. Frizzle?s students.In the beginning, the class is learning how their bodies use food as energy. The class has plans to go on a field trip. The bus shrinks and goes into Arnold?s body instead of the museum. Then, they see up close how the body works. At the end, Arnold sneezes and the bus goes flying out of his nose.
I enjoyed this book because I like science and it showed how the body breaks down food. I liked the part when the class jumped on the blood cells. Arnold is an interesting character in the book. He doesn?t like to go on field trips, and the field trip was in his body.
I would recommend this book to first and second graders because it was interesting and you can learn how your body digests and uses the food you eat.