Manana Iguana
Written by Ann Whitford Paul
Illustrated by Ethan Long
Reviewed by Lauren B. (age 7)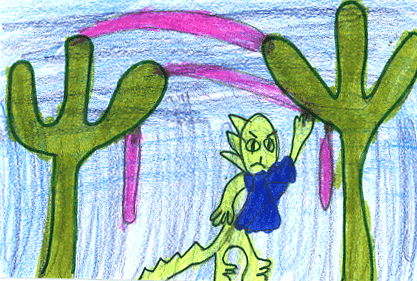 This book is exceptionally funny. The story takes place in the desert when spring is coming. The problem is that no one will help Iguana get ready for a party on Saturday. Her friends, Conejo, Tortuga, and Culebra keep saying no. The Little Red Hen is a lot like this book.
This book is about a little iguana. Iguana is my favorite character. Did you know that animals can have parties, too? I like the page that shows Iguana giving out the invitations. She gives one to a toad looking out from under a rock. Iguana is not mad yet because she doesn't know that Culebra, Tortuga, and Conejo are not going to help her at all. Their excuses are funny. Culebra says, "Manana, Iguana." My favorite part of the story is when they try to find a way to help Iguana when she's asleep. The illustrations are colorful and funny, like when Tortuga and Conejo are playing tic-tac-toe in the sand. There is a glossary with the days of the week and the characters' names in Spanish and English. Conejo means rabbit.
There is a lesson to be learned, which is to always help your friends. You can go to your school library and get this book, Manana, Iguana!