Boss of the Plains
Written by Laurie Carlson
Illustrated by Holly Meade
Reviewed by Jocelyne W. (age 8)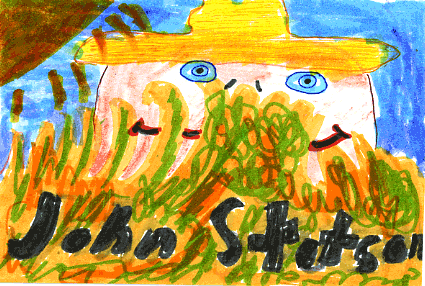 This is a historical fiction book about John B. Stetson, a hat maker. He went to Colorado and saw that his old hat didn?t work anymore. Its brim was too short and the sun was hot in Colorado. He made a new hat and wore it and the hat kept the sun out of his face.
The author, Laurie Carlson, used descriptive writing incredibly well with words like ?wide brim? and ?whipping?. I love the illustrations in this book. They were awesome bright colors and very pretty. The illustrations help me to imagine the small tent that John had made. I liked this terrific book because it showed that the West was very exciting. All the cowboys and cowgirls would make me excited because they?re sometimes movie stars like Annie Oakley. My favorite part was when John found out he could go west because he had always wanted to go west.
I recommend this book from pre-K to adult because any age would like it. If you have read the book John Willy & Freddy McGee and liked it, you will love the pictures in Boss of the Plains.