Mission to the Arctic
Written by Nicole Baxter
Illustrated by Roger Harris
Reviewed by Benjamin M. (age 8)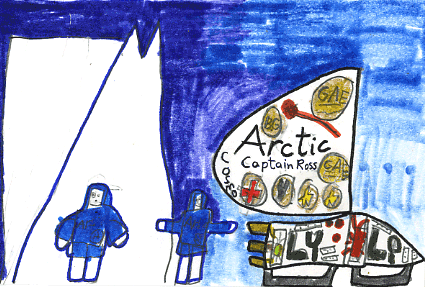 This is a fact book that has a story in it. Cosmo is a geologist who alerts the team when meteorites come to the Earth?s atmosphere. They go to the Arctic by plane and they scout for meterorites. This book has interesting facts about the Arctic.
I like all the characters, but the ones I admire most are Captain Ross, Cosmo, and Scooter. Captain Ross has an interesting vehicle. It goes on ice extremely fast. Scooter is a mechanic. Scooter was so excited when he saw a group of meteorites that he didn?t see a bank of snow ahead. He bumped into it and flew into the air. It was awfully frightening. I wouldn?t want to look at that in real life. If I were Scooter, I would pay attention on the ice. My favorite part is when the alien gets out of his shell. This means that the next adventure is just beginning.
There are other books that are made by the LEGO Company, called Rocket Rescue, about space, and Race for Survival, about Earth. If you like to build with LEGOS, you will like this book. If you want to learn about the Arctic, there are interesting facts about the Arctic in this book.