What a Trip, Amber Brown
Written by Paula Danziger
Illustrated by Tony Ross
Reviewed by McKenzie K. (age 7)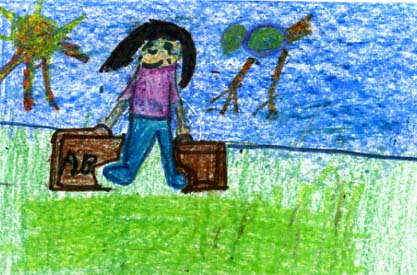 In this book Amber and Justin are best friends. They went on vacation together with their families. They were going on vacation in Pennsylvania. In the beginning of the story they traveled in a car to the summerhouse. It is a noisy ride because Justin?s little brother Danny was yelling. On their vacation they do lots of fun things like go in the pool and jump in big puddles. When their fathers came they went camping in the backyard. They didn?t want Danny to camp out with them because he is so annoying. In the middle of the night Danny scared them by being a bear. I liked that part the best because they jumped out of their sleeping bags. The illustrator made me laugh with the picture. Danny got to stay even though he was bothering them.
I enjoyed this book because I have two brothers who bother me sometimes. My little brother especially, because he copies everything I do and wants to be included. If you have a younger brother or sister you could relate to this story like I did.
I would recommend this book because it is funny and if you like to camp and it?s like a good book for you. This book is part of a series about the adventures of Amber Brown. She is fun because she is my age!