Helen Keller and the Big Storm
Written by Patrick Lakin
Illustrated by Diana Magnuson
Reviewed by Danielle B. (age 8)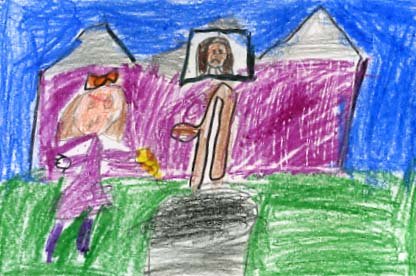 This book is about Annie Sullivan and Helen Keller. It takes place outside in Helen?s front yard. In the beginning Helen?s family can?t control her so they hire Annie Sullivan to help. Helen didn?t like Annie at first, but then Annie taught her how to communicate. In the middle Annie left Helen outside for a little bit. A big storm came and Helen was stuck in a tree. Annie saved Helen and they became friends forever.
I really liked reading the part where Helen was pulling pranks on people in her family like the time she locked her mother in the kitchen. Helen really changed in this story because in the beginning she acted like an animal, even eating wither her hands. When Annie began working with her she started to change. She became nice and polite. She was a very smart girl.
I respect Helen because although she was blind and deaf she grew up to help other people that had the same handicap as her. She became famous for helping other people. The illustrations in this book were beautiful, especially the page where Annie and Helen are outside learning about the flowers. I enjoyed this book because I love true stories. I have read other stories about Helen Keller and this one was the best because I learned that Helen loved using the outdoors as her classroom and I love learning about nature too.
I would recommend this book because Helen is blind and deaf and she helped people who are blind and deaf. This story reminds me of the time I had my tonsils out and I could not talk. I understand how frustrated Helen was when she could not communicate to people. Read this book if you want to learn more about Helen Keller!