If You Give a Moose a Muffin
Written by Laura Numeroff
Illustrated by Felicia Bond
Reviewed by Mohammad A. (age 9)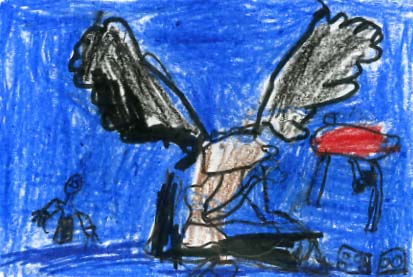 This book is about a moose that asked a little boy for a muffin. It takes place in a house. In the beginning, the moose asks for a muffin from a little boy. Then, he wants the little boy to give him jam to go with the muffin and he keeps asking for different things. At the end, he asks for another muffin with jam.
I enjoyed this book because it was funny, the moose asks for so many muffins. It reminds me of camping because I saw something running and I think it was a moose. My favorite part was when the moose was sewing a sweater for himself. Moose don?t usually sew because they have hooves, not hands. It made me laugh.
This book is part of a series. I also liked the book If You Give A Mouse A Cookie. These books make me laugh because they are so funny and silly. In all the books animals ask for something to eat. I would recommend this book to people that like books that make them laugh and like animals. The illustrations in this book were really interesting. I think anyone would laugh to see a moose sew.