Horrible Harry and the Purple People
Written by Suzy Kline
Illustrated by Frank Remkiewicz
Reviewed by Tommy Cr. (age 8)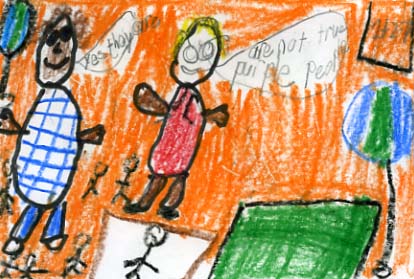 This book is about Harry, Song Lee, Mary, Doug, Purple People, Ida, Ms. Mackle, and Sidney. It takes place at the school in classroom 2B. In the beginning, Harry showed Doug his Purple People ruler. He told the class about them, but no one believed Harry, not even his best friend. Then the Purple People helped the class of 2B. Everyone believed Harry, except Mary. So Harry said that he would let her meet one at the tea party. At the end, Harry was going to pour grape juice on Mary as a joke and tell her that she is a purple girl, but Doug saved Mary. They all laughed about it and became friends.
I enjoyed this book because Harry and Mary keep fighting because of the the Purple People. No one believed that there were Purple People. I liked the idea of real Purple People. I wish I could think of something like that. I like the kids in the Horrible Harry books. They remind me of school, but we usually don't have exciting things like this happen.
I would recommend this book to my cousin because it was funny when Harry chanted, "Purple People!" My cousin has a good sense of humor. I think kids my age would like this book.