The Catcher's Mask
Written by Matt Christopher
Illustrated by Bert Dodson
Reviewed by Derek N. (age 8)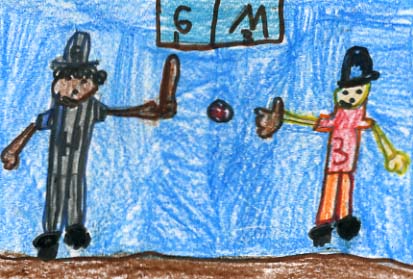 This book is about Rudy, the catcher, who is playing baseball. Zero is the pitcher. Coach Parker helps Rudy. This book takes place at a baseball field and a yard sale. In the beginning, Rudy?s team, the Mudders, really stink. They had bad uniforms and bad fields. Then, Rudy goes to the yard sale. He buys a catcher?s mask and a book about baseball. At the end, Rudy?s team wins the championship. He becomes a good baseball player.
I enjoyed this book because I like to play baseball in the spring also. A Yankee player named Yogi Berra is in the book. It was a cool surprise in the book. I would like to win a championship like Rudy. I like reading books about kids like me that like the same things as I do.
Although I didn't like the pictures, I would recommend this book to people in the first grade to fourth grade who like to read about baseball and can read chapter books.