Song Lee and the I Hate You Notes
Written by Suzy Kline
Illustrated by Frank Remkiewicz
Reviewed by Jessica O. (age 8)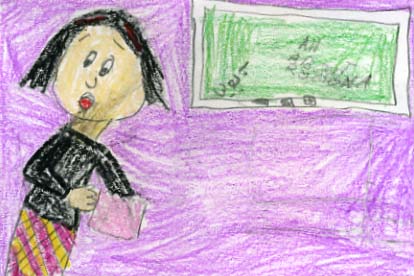 This book is about Song Lee, Doug, Harry, Mary, Miss Mackle, and Sydney. It takes place in Song Lee?s school. In the beginning Song Lee gets to choose what to do for recess and she picks to play garbage can kickball! Then, Song Lee finds the first ?I hate you? note. It said, "Dear Song Lee, I hate you. You?re mean. Signed, Yarn - N + M". At the end, Harry and Doug figured out who gave Song Lee the pink "I hate you notes" folded into eighths. Song Lee didn?t like the person who wrote them.
I enjoyed this book because a lot of characters reminded me of people in my life. It's fun to read about kids like you in school, too. It makes you feel better. This is one book in a series about Song Lee and her friends. This one is like the others because they all have a problem for the friends to solve.
I would recommend this book because it?s a really fun story that will make you laugh! This book would be good for people first grade and up. You should try to read all of the Song Lee books.