Henry and Mudge in Puddle Trouble
Written by Cynthia Rylant
Illustrated by Sucie Stevenson
Reviewed by Hayley P. (age 8)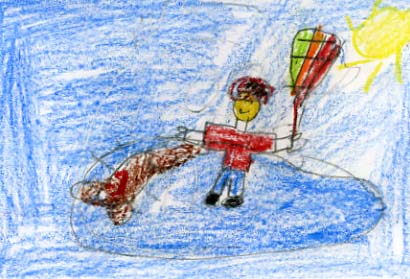 This book is about a little boy Henry and a dog named Mudge. It takes place outside Henry?s house in the springtime. In the beginning, Henry and Mudge found a pretty flower. Henry wanted to pick it, but his mom said ?no?. Then Henry and Mudge played in a giant puddle. They got soaked and covered in mud. At the end, Henry and Mudge became friends with the kittens next door. Mudge protected the kittens.
I enjoyed this book. It reminds me of my dog and me. Henry and Mudge had a lot of fun together. I really liked when they were covered in mud. It made me laugh. This book is part of a series. I like all of the Henry and Mudge books, because they are easy to read, and they are great characters.
I would recommend this book to anyone who likes to read about kids and animals doing silly things.