The Berenstain Bears and the Bike Lesson
Written by Stan & Jan Berenstain
Reviewed by Dilber D. (age 7)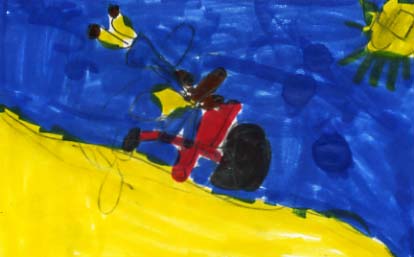 This book is about Papa Bear and his son, who is trying to learn how to ride a bike. It takes place in the forest. In the beginning, when Papa Bear buys a bike for Brother Bear, he is trying to teach him some lessons. Then, Papa Bear tries to teach his son how to ride a bike, but Papa Bear keeps on getting hurt. At the end, Brother Bear finally gets to ride his new bike that Papa Bear bought for him.
I enjoyed this book because it was really funny when Papa Bear tried to teach Brother Bear how to ride a bike. Papa Bear makes so many mistakes. I like all of the Berenstain Bear books because the dad is so silly. This one is just like the others because of that. My favorite part was when Brother Bear could finally do it himself, just like me.
I would recommend this book to all kids, because it was funny and entertaining. We all want to ride our bike, but I don't think we want Papa Bear showing us how.