The Giving Tree
Written by Shel Silverstein
Illustrated by Shel Silverstein
Reviewed by Destin H. (age 7)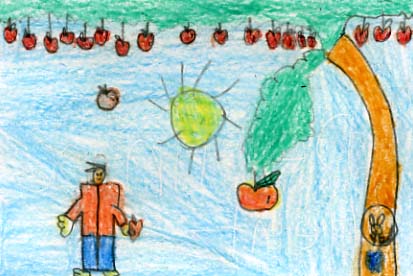 This book is about a tree helping a little boy. It takes place in the forest. In the beginning the boy went to visit the tree every day to eat apples and play king of the forest and he would climb up the trunk. Then the boy got older and didn?t visit the tree for a long time, because the boy found a girl friend which he spent more time with. At the end, the tree helped the boy make money and she gave up her branches to build a house. Then she let the boy cut down her trunk to build a boat to sail far away.
I enjoyed this book because the tree is helping the boy grow up and have a good life too. My favorite parts were when the boy played with the tree. Both the boy and the tree were happy. I felt badly for the tree when the boy wouldn't stay with it. I like the drawings because I could probably draw like that, too.
I would recommend this book for all kids under 10 and younger too. It just makes you feel good.