The Kissing Hand
Written by Audrey Penn
Illustrated by Ruth E. Harper and Nancy M. Leak
Reviewed by April D. (age 8)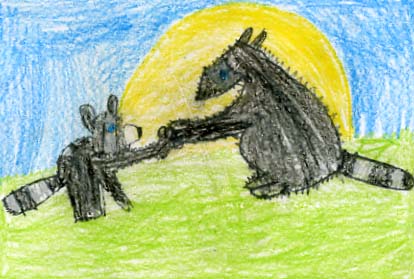 This book is about Chester Raccoon, and Mrs. Raccoon. It takes place in the woods and outside his school. In the beginning, Chester did not want to go to school. He was afraid to leave his mother. Mrs. Raccoon told him about all the fun things he would do at school. Then, she told him a secret called the Kissing Hand. She kissed Chester?s hand. When he feels lonely, he puts his hand to his cheek, and it feels like his mother is kissing him. At the end, he takes his mother?s hand and kisses it. She now has a kissing hand too. Chester happily runs into school.
I enjoyed this book because it is a loving story. It teaches you not to be afraid to do new things. If you are not by your parents, they still love you. My favorite part was when Chester gave a kissing hand to his mother, too. It reminds me of when I first came to school, but I wasn't that afraid.
I would recommend this book to children of all ages. It will help them try new things. The Kissing Hand reminds us that we are loved a lot!