The Giving Tree
Written by Shel Silverstein
Illustrated by Shel Silverstein
Reviewed by Alexander G. (age 8)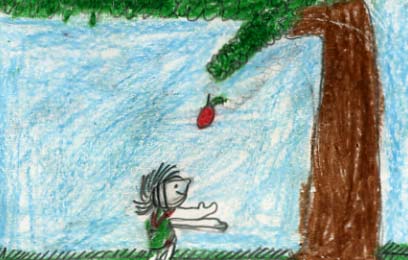 This book is about a boy and a tree that are playing together. It takes place in a backyard. In the beginning, the boy plays with the tree. The boy eats the tree's apples and he plays hide and go seek with the tree. Then the boy grows and grows and goes away. One day the boy comes back. The tree wants to play with the boy, but he is too big to play with the tree. After a long time the boy comes back again. The tree has nothing left except a little of the trunk. The boy needs a place to sit and rest. The tree lets the boy sit on its trunk.
I enjoyed this book because the story was easy to follow. Shel Silverstein is one of my favorite authors. He makes reading fun. This book is like his others because it is simple and nice.
I would recommend this book because it is funny and easy to read. The story is very interesting. I think first grade and up should read this.