Junie B. Jones Smells Something Fishy
Written by Barbara Park
Illustrated by Denise Brunkus
Reviewed by Jessica C. (age 6)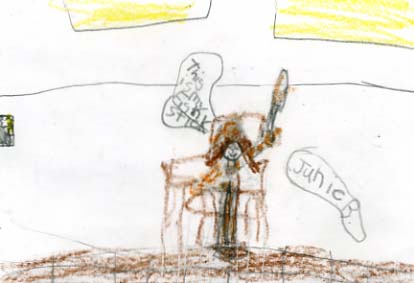 This book is about pet day in Junie B. Jones? first grade class. What happens in the beginning is Junie B. Jones? teacher announces that there is going to be a pet day at school. But no dogs or cats are allowed. Then Junie. B. Jones? pet worm dies, so she thinks that maybe she will bring in the fish her grandmother caught while fishing. At the end, Junie B. Jones brings in a fishstick she finds her freezer.
I think this book is so funny it will make you laugh until you cry. I like the part where she named her pet worm ?noodle? because she said they looked like twins. This is a book in a series about Junie B. Jones. It is the same as the other books because Junie does funny things which she usually gets in trouble for. This book is different because she brings a fishstick to school, which was not what the teacher was looking for.
I would recommend this book to my friend, Elise, because she loves Junie B. Jones books. I think other first grade girls would love this book because she would be great to have in class.