Big Bear Little Bear
Written by David Bedford
Illustrated by Jane Charman
Reviewed by Janelle G. (age 7)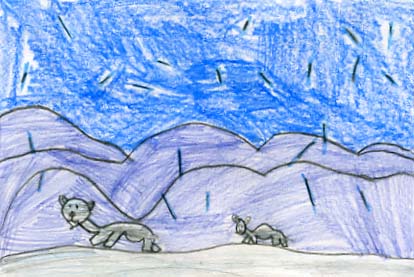 This book is about a little bear who wants to be like his mom when he grows up. What happens in the beginning is the baby polar bear wants to be just like his mom when he grows up. Then, his mom shows him everything he needs to know to be a grown up bear. She shows him what to eat and how to run and how to wrestle and swim. At the end the mommy polar bear tells her baby that if he grows up to fast he won?t be able to ride on her back anymore. The baby bear says he is not ready to grow up just yet. They snuggle in their den.
This book was about love. I liked the book because big bear and little bear loved each other. Little bear and big bear were just like real people. They acted just like a real mother and son.
I would recommend this book to younger readers. When I was reading this book I had a warm feeling. It made me want to get a hug from my mom.