Scooby Doo Meet Bigfoot
Written by Michelle Nagler
Illustrated by Duendes del Sur
Reviewed by Ben H. (age 7)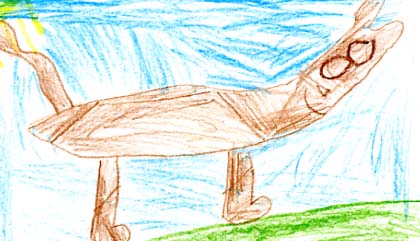 This book is about Scooby-Doo meeting Bigfoot. What happens in the beginning is Scooby Doo and his friends went to a cabin for vacation. Then, they see bones and big footprints on the path. At the end, Bigfoot was really part of movie.
I think this book is good. I liked them finding out the monster was doing a movie. This is part of a series of Scooby Doo books. This one is like the others because they have Scooby Doo, they find monsters, and solve mysteries. This book is different because Bigfoot is in it. I really like Scooby Doo, who is a dog, he is very silly, he is always scared, and he talks!
I would recommend this book to my dad because he was a teacher and he likes books. Kids who love mysteries would also love this book.