Curious George Rides a Bike
Written by H.A. Rey
Reviewed by Amanda C. (age 6)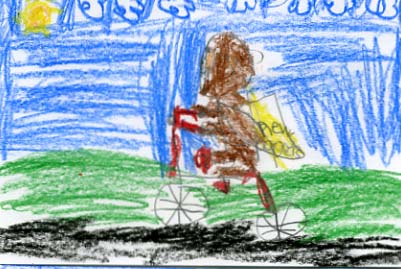 This book is about Curious George and his new bike. What happens in the beginning is Curious George and his friend got a big box with a bike in it. Then, he rides the bike and delivers newspapers for his friend. He makes paper boats instead of delivering them. At the end, he wrecks his bike, joins the circus, rescues the bear, and his friend takes him home.
I think this book is silly and funny. Curious George was riding his bike with no hands. My favorite part was when Curious George was making paper boats because I think would be fun to make paper boats too. Curious George always gets into trouble in all of his books.
I would recommend this book to anyone that likes monkeys. Curious George is a very funny monkey.